SUPER WHITE BRIGHT AND SLIM (L-GLUTATHIONE + L-CARNITINE)
| | |
| --- | --- |
| | This image has been resized. Click this bar to view the full image. The original image is sized 812x1023. |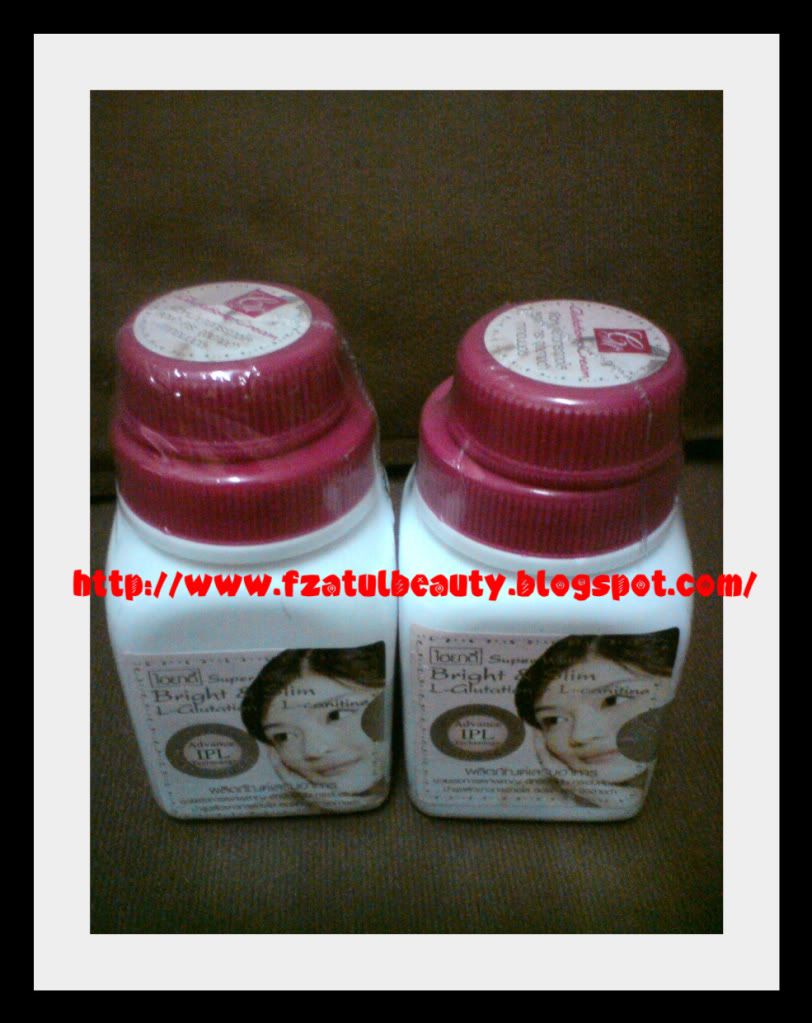 kebaikan L-carnitine


*Merupakan satu ramuan yang begitu berkesan dalam pembakaran lemak (fat burner), menambahkan tenaga dan mengekalkan tahap kecergasan badan sepanjang hari.
* L-Carnitine merupakan ramuan yang sangat mujarab dalam program diet di mana ianya sangat effektif untuk mengurangkan rasa lapar dan letih.
Menambahkan tenaga dan mengekalkan tahap kecergasan badan sepanjang hari
* Ianya ramuan yang bagus bagi melindungi jantung, saraf dengan bertindak sebagai agen antioksida



kebaikan glutathione

* Membantu meningkatkan kekuatan dan ketahanan badan
* Mampu merawat kebanyakkan gejala berkaitan dengan paru-paru seperti lelah, radang paru-paru yang serius, dan emphysema (udara yang berlebihan dalam paru-paru)
*Mengekalkan fungsi immune, juga berperanan sebagai ajen ketahanan anti-tumor yang kuat
* Melawan pengedaran pengoksidaan lemak dalam saluran darah, termasuklah kolestrol
* merangsang imunisasi
* menyahtoksin racun
* Memutihkan kulit (membantu memutihkan kulit dengan menukarkan eumelanine (pigmentasi kulit gelap, coklat, kuning sawa matang) kepada phaeomelanin(pigmentasi kulit putih kemerahan)
* Menghilangkan jerawat dan parut acne
* Menjadikan kulit lebih lembut, segar dan berseri-seri
* menyembuhkan luka: memberi khasiat pada kulit
- L-Glutatione - 500mg.
- Collagen from deep sea fishing. 100 mg
- Extract from pine bark. 50 mg .
- Alpha Lipoic Acid ( ALA ) 20 mg.
- L - R G Nin.10 mg.
- Grape seed extract 50 mg.
- Extracts from tomato 50 mg.
-Vit C 50 mg.
- Co-enzyme Q10 - 20 mg.
-Vit – E -20 mg.
- Bluberry extract - 20 mg.

-L-carnitine 750 mg
- Tenykhry 200 mg.
-Macrocrystaline Cellulose 150 mg
- Chromed. 50 mg.
- Mn. 50 mg 50 mg.
- Garcinia 50 mg.
- CLA 50 mg.
-Makampom 30 mg.
- Green Tea Extract 30 mg.
- Vitamin 15 mg.


Size eating. : 10-20 minutes before meals. Or an empty stomach. 1-2 tablets at a time.

To get better results should be taken to review the 1-2 months.