Zamian Gold Cacao Mask
Hot!!
PROMOTION!!!

ZAMIAN 150g + 2soaps= RM65
ZAMIAN 150g = RM47
ZAMIAN TRIAL 6g = RM7
boleh pilih nak skli dengan sabun atau tidak.. yg dah serasi dgn pencuci muka sedia ada ambik zamian mask sahaja dah berbaloi.. marvelous..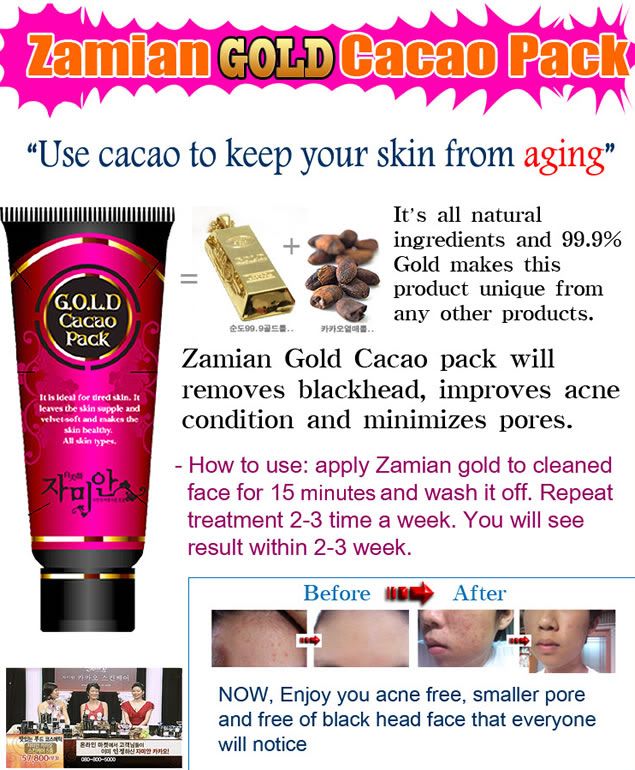 KEBAIKAN
1) Mengecilkan pori-pori
2) mgekalkan keremajaan kulit. (anjal)
3)Mengecutkan jerawat
4)Mencerahkan kulit wajah
5)Mengurang dan mgawal pengeluaran minyak
6)Awet Muda (Anti Aging)
7) menegangkan kulit
8) Membuat kulit jadi8 lembab
9) meyelesaikan masalah parut.


TERBUKTI BERKESAN!!


This is the latest popular Korean beauty products among celebrities. Besides, it is also widely broadcasted by Korean Media of its benefits and miracle. It offers an abundant benefits for your skin. What makes it more value worthwhile is the aromatic chocolate fragrance during usage which helps to stimulate the brain in releasing setronin to soothe & relax your mind!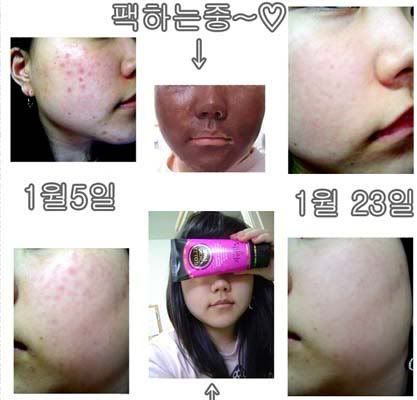 Zamian Magic Cacao Mask Pack
, terdiri dari 3 item:
1. Zamian Gold Cacao Mask
2. Olive soap
3. Cacao soap

CARA PEMAKAIAN:
1. Bersihkan muka dengan Cacao Soap.
2. Pakai masker selama 20 – 30 minit.
3. Bilas dengan air hangat (bisa juga menggunakan handuk yang dibasahi dengan air hangat).
4. Bersihkan dengan menggunakan Olive Soap.

DETAIL PRODUK:
Cacao Soap (Chocolate) : Terbuat dari black sugar, cacao, palm oil, dan coconut oil. Cocok untuk kulit sensitif, berminyak dan berjerawat.
Zamian Gold Cacao Mask - Untuk Jerawat!! Pure Cacao & 24k Gold!! Diimport dari Korea. Terbuat dari 100% Chocolate. Kemewahan untuk kulit anda. 150ml Chocolate Face Mask. Mengandung emas 24k.Masker wajah ini membantu mengurangi jerawat, mengecilkan pori-pori and kemerahan pada kulit, membuat kulit and bersih, halus, dan bersinar. Untuk semua jenis kulit
Olive Soap (Yellow) : Terbuat dari virgin olive oil, palm oil, coconut oil, dan camilai oil. Melembabkan kulit wajah dengan kesegaran wangi lemon.