CYLEINA SOAP

SABUN ORGANIK CYLEINA DIPERBUATDARIPADA BAHAN-BAHAN TUMBUHAN DAN BUAH2AN YANG DITANAM SECARA ORGANIK.IANYA BEBAS DARIPADA RACUN SERANGGA, BAHAN KIMIA DAN PEWARNA.
IANYA DIBUAT DENGAN CARA PROSES PEMBEKUAN TRADISIONAL. IANYA JUGA BEBAS DARI PARABEN DAN BAHAN KIMIA SABUN
HARGA OFFER SEMUA JENIS CYLEINA SOAP HANYA RM16.00!!

DENGAN BELIAN 2PCS HANYA RM30.00 CYLEINA SOAP DAN AKAN MENDAPAT SAMPLE SABUN CYLEINA YANG LAIN.

NAK TRIAL DULU?...ADA HANYA RM2.50 UNTUK TRIAL SOAP kecuali BPEARL RM4

CYLEINA BLACK PEARL 45g


Paling Laris!! Hot!!


KEGUNAAN ;
- All in 1 soap
- Jerawat
-Jeragat
- Hilangkan Parut
-Glow
- Mencerahkan bawah lengan
- Sun burnt
~ arbutin and licorice in the black pearl White
n skin tone instantly!
~ lightens dark spots caused by sun exposure and pimple scars
~ Effective in lightening dark underarms and inner thighs caused by imbalanced hormones, chemical burns from deodorants
~delays wrinkle formation with its collagen content
~safe, gentle and will not sting
~see results as early as first use


Inspired by the rare beauty of South Sea black pearls, Cyleina endows your skin a luminous clarity using premium and safe skin enhancing ingredients:
Collagen supports a smooth, radiant, elastic, and well hydrated skin to slow down the wrinkle formation.
Licorice has anti-bacterial and natural lightening complex for clean and fairer skin.
Arbutin gently exfoliates dead skin cells and inhibit melanin production for softer and glowing skin.
Vitamin E is an anti-oxidant which protects the skin against damage with moisturizing complex for healthy supple skin.
Cyleina Black Pearl lightens dark spots caused by sun exposure and pimple scars
. It is effective in lightening dark underarms and inner thighs caused by imbalanced hormones, chemical burns from deodorants
 and delays wrinkle formation with its collagen content.
Direction for use:
Achieve skin as precious as black pearls by daily cleansing wet skin with CYLEINA BLACK PEARL concentrating on darker areas of the body. Rinse well.
Use morning and evening for a brighter complexion.
Recommendation: This product performs best when used continually. 
recommended for darkened mature skin.
Ingredients:
Glycerine, Distilled Water, Myristic acid, Marine Collagen Peptide, Licorice, Alpha Arbutin, Vitamin E acetate, Peppermint essential oil
Cyleina Kojic soap
Size: 120gms
KEGUNAAN ;
- Mencerahkan kulit
- Samakan tone kulit
- Repair kulit yg Rosak
- Menghilangkn kedut dan ta
nda penuaan
- Glow
-
Masalah kulit
-Bintik2
-Jerawat


Kojic soap is a powerful anti-oxidant with pure natural whitening agents, this triple action skin whitening soap ensures a clear, smooth even toned complexion. It helps repair existing skin damage, preventing wrinkles that are signs of skin ageing, and improve the overall condition of the skin leaving it more vibrant healthier glow.
Kojic acid was discovered as a natural product derived from a mushroom in Japan. This is considered a very important ingredient in cosmetics because of its medicinal properties. It has been successfully used to lighten pigment spots and skin discoloration and considered as a popular inhibitor for melanin. At present, it is used in various kinds of cosmetic therapies for pimples, freckles, acne, sunburn, eczema, skin blemishes and other skin problems.
CYLEINA RICE BRAN
Very popular!!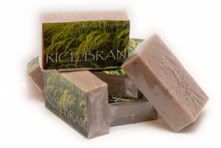 Size : 125gms
Kegunaan :
- Jerawat
- Buang sel kulit mati
- menyamakan tone kulit (jadi sek
ata)
A source of vitamin E complex, antioxidants and other micronutrients to help fight free radicals and combat the effects of aging. Rice bran's natural enzyme will helps to dissolve dead skin & blemishes, while retaining moisture.
Ingredients: Palm Oil (Elaeis Guineensis), Coconut oil (CocosNucifera), Water (Aqua),Brown sugar, Lavender oil,Geranium oil, Grapefruit seed extract, Rosemary oil, Acapulco Rice bran enzyme, Palmarosa oil, Maychang oil, Silk powder, Benzoin oil,Cedar wood oil, Mineral water(nigari), Soy bean extract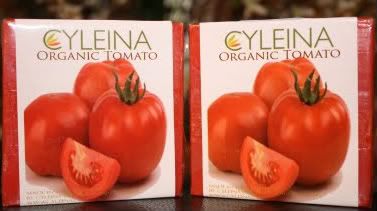 Size : 125g
ms

Kegunaan:
-

Kulit Berminyak

- Jerawat
- mengecilkan liang pori2...(Sesuai un
tuk masalah pori besar)


Tomatoes have high vitamin content and are a rich source of the antioxidant nutrient, lycopene. This is the red pigment contained in tomatoes. Lycopene counter the ageing effects on the skin, by cutting out the number of free radicals in your body.
Capture the health benefits of tomato to your skin by using CYLEINA ORGANIC TOMATO SOAP! Made from red and ripe organically grown tomatoes, CYLEINA ORGANIC TOMATO SOAP counters oily skin by absorbing surplus oil. The tonic benefits of tomato deeply cleanses and tightens the pores. Alpha-Hydroxy Acids found in tomato helps get rid of pimples and acne through its gentle exfoliating action and this also results to getting your cheeks a rosy hue and your body a fair glow!
BEST FOR: Oily skin with large pores
ingredients:Saponified Organic Vegetable oil,Jojoba Oil, sweet almond oil, organic tomato extracts
`CYLEINA ORGANIC HONEY OATMEAL SOAP
`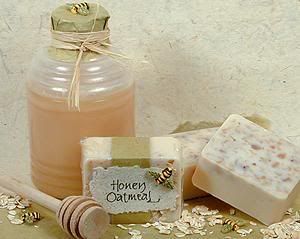 Honey is rich in nutrients, enzyme and antioxidant which eliminate free radicals. It is an excellent moisturizing agent and natural cleanser due to its anti-microbial property. Oatmeal's grainy little flakes perform mini-miracles when applied to skin. It whisks away dead cells, irritation, and redness, leaving a soft, moist glow behind There are four reasons why your skin adores oatmeal
Dryness fighting: Oats contain polysaccharides, which become gelatinous in water and leave a fine protective film on the skin, preventing dull, flaky dryness.
Moisturizing: Oats are full of healthy, lubricating fats.
Defense building: The proteins in oatmeal help maintain the skin's natural barrier function, which is what ensures that the world outside the skin stays out, and what's inside the skin stays in.
Pore cleansing: Oats are filled with natural cleansers (called saponins) that gently remove dirt and oil from the pores.
Enjoy the beauty rewards of these superb ingredients with CYLEINA ORGANIC HONEY OATMEAL SOAP! Infused with all the benefits of honey and oatmeal plus Milk proteins are also added to restore the smoothness of the skin!
Strawberry Cyleina Soap
KEGUNAAN ;
-Sun Burnt Skin
- Fast Skin Whitening
-mengelakkan kedut2
- baiki Tisu kulit
- BlackHead
Strawberry's heart-shaped silhouette is the first clue that this fruit is good for you. Anthocyanins, the pigments that give strawberries their characteristic deep red color, are powerful antioxidants that have anti-inflammatory properties which help protect cells from free
radical damage.
A cup of sliced strawberries contains as much vitamin C as one cup of orange juice, and vitamin C is essential for maintaining strong connective tissue in skin. In other words, strawberries may help keep your skin plump and healthy and stave off wrinkles.
Strawberry is a scrub bar made from Baguio strawberries sprinkled with poppy seeds for added exfoliation. Great for sloughing sun burnt skin and in fast skin whitening.
`Lavender`
Lavender is one of the most popular scents in the world.
Cyleina Organic uses the best all-natural lavender essential oils available.Our lavender soap is cold processed to retain its moisturizing glycerin and combined with over 50% pure virgin olive oil, coconut oil and shea butter, it's incredibly healthy soap for moisturizing your skin.
Aroma therapists tell us that the smell of lavender calms you and helps to relieve your stress. Best of all the fragrance is not too strong or overpowering...it's just right...extremely pleasing.
Pos Express RM3.50 untuk 1-2 Ketul, RM4.50 untuk -5 ketul..